---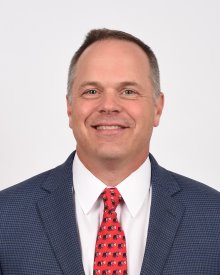 July 1st 2021
Cushing Academy aims to continue and grow its storied hockey legacy by bringing on board Division 1 veteran Paul Pearl as head coach for Boys' Hockey.
"We sought the best candidate possible to continue Cushing's established tradition of hockey excellence, and I am proud to say that we found the perfect match in Paul Pearl" said Randy Bertin, Cushing Academy Head of School. "Paul ranks among the top hockey professionals and coaches in the country. He has an excellent record as a winning coach and the professionalism, integrity, and competitiveness that will elevate our program."
Director of Athletics Jennifer Viana echoed Bertin's thoughts. "I am thrilled to welcome Coach Pearl to the Cushing community. As the Head Varsity Boys' Hockey Coach, Coach Pearl will bring tremendous experience, expertise and veteran leadership to the hockey program," she said. "He understands the prep school and college hockey landscapes and Cushing's hockey program will benefit greatly from Coach Pearl leading the program. I look forward to supporting Coach Pearl as he builds upon the strong hockey tradition that Coach Jacob's has built over his time leading the hockey program."
Pearl expressed his excitement about the opportunity. "Cushing's reputation for producing great scholar-athletes and its commitment to its highly regarded and excellent hockey program make the Academy a special place to coach and for its students to grow as players and students," said Pearl. "Dr. Bertin has a great vision for the Academy and its athletics, and I look forward to contributing to this exciting future for the hockey program and Cushing."
The Cushing hockey program Pearl is joining is perennially one of the top among the country's independent schools. Eight Cushing players from the 2020-21 team earned Division 1 NCAA scholarships. Cushing Hockey is currently well represented in the NHL with three-time all-star and active NHL iron man streak Keith Yandle who has played more than 1000 NHL games; Stanley Cup winner Zach Bogosian; and two-time Stanley Cup winner Conor Sheary. Four Cushing players are currently at USA Hockey National 17-year-old camp. Cushing has produced 18 NHL players and five US Olympic Hockey players. Cushing Hockey comes off two back-to-back seasons of appearing in the New England Championships, where it fell short twice to Kent School 3-1 in 2019 and 1-0 to Loomis Chaffee in 2020. Last year's postseason did not occur due to the COVID pandemic.
"We are excited to welcome Paul Pearl to Cushing as our new head coach," said Steve Jacobs, Cushing's longtime hockey coach, who is taking on a new role as Director of Boys' Hockey and will work closely with Pearl. "Paul is a very successful coach with experience at the highest level of college hockey. He has a strong understanding of the needs, capabilities, and goals of players in the independent school age group and is familiar with the type of student athlete we are looking to develop."
Aside from his role as head coach of Boys' Hockey, Pearl will serve as assistant coach of Cushing's baseball team and contribute to the Academy's development efforts as an advancement officer.
Pearl has coached at the Division 1 level for more than 30 years. He comes to Cushing from Boston University, where he was associate head coach. Prior to BU, Pearl was associate head coach at Harvard University when that team participated in three straight NCAA tournaments between 2015- 2017 and won the ECAC championship twice, sharing the 2017 Clear Cup. Harvard also received its first Beanpot title since 1993 and saw its most victories since 1989 duringPearl's tenure as associate coach.
Before his time at BU and Harvard, Pearl was head coach at his alma mater, Holy Cross, for 19 years, and remains the all-time winningest coach in the college's history. He led the Crusaders to NCAA tournament games in 2004 and 2006 and coached five 20-win seasons. He was named Coach of the Year in 1998 by the ECAC and New England Writers' Association, the MAAC Coach of the Year in 2002, and Atlantic Hockey Coach of the Year in 2004 and 2011.
Pearl began his coaching career at UConn and Brown University. As a player at Holy Cross, Pearl scored 77 points on 14 career goals and 63 assists. He graduated from Holy Cross in 1989 and earned his MBA from UConn in 1994.
Cushing Academy, founded in 1865, is an independent, coeducational college preparatory boarding school located 60 miles northwest of Boston. Cushing Academy serves a wide range of students in grades 9-12 and offers a post-graduate year. For more information please visit www.cushing.org.
---
---
You may also be interested in...