Each week during the season, our athletic department celebrates two athletes who have excelled on the field, court, or ice as our Impact Penguins of the week.
---
November 10, 2023

Varsity Volleyball
Brooke Harb '25
Brooke's performance over three games this past week was phenomenal, particularly with her defense and serving. As one of the team's liberos, Brooke is instrumental in serve-receive and defense. She recorded impressive digs and passed the ball to our setters effectively and accurately, leading to many key kills for points. She also was a major contributor from the serving line- over the week she had more than ten aces and only two missed serves. As playoffs loom, the team is excited about the performance track she has demonstrated.
---
November 3, 2023

Varsity Girls' Soccer
Quinn Corbin '26
Quinn was an impressive and versatile player last week. Due to team injuries, Quinn has effectively adapted to playing different positions on the field Quinn has exemplified valuable leadership qualities for the varsity girls' soccer team by creating opportunities for herself and her teammates to succeed. Quinn has shown support and demonstrated to her teammates the need to work together. Her strong work ethic and determination during training have showcased her willingness to take on players with her individual skills to win balls. Quinn has highlighted her desire to consistently compete on a daily basis.
Varsity Boys' Soccer
Dylan Slimak '24
Dylan has been instrumental to the team's success this season in net, starting all of the matches and earning five clean sheets. His leadership on the field has been impressive, acting like an on-field coach by organizing the back line, demanding tactical awareness, and sending encouragement to his teammates. Last week, Dylan posted two clean sheets and ten total saves in wins against Class B rivals Proctor and Dexter. In both matches, Dylan made point-blank saves early to preserve 0-0 score lines, and he even chipped in an assist on the game-winning goal against Dexter. Last week in particular, Dylan commanded his area - claiming crosses, providing an outlet in possession, and playing sweeper keeper on through balls. The team is currently on a five-game unbeaten run (3-0-2), and Dylan's contributions have been a big reason for the recent success.
---
Honorable Mentions
JV Boys' Soccer
Umar Khan '26
Umar has bounced between Thirds and JV Boys' Soccer this season, serving as a reliable striker when called upon. On Saturday, Umar was called up to JV to play against Eaglebrook, where he took full advantage of the opportunity, scoring two goals in a 4-1 win to get the Penguins to 6-3-1 on the season. Umar has consistently worked hard and improved his game dramatically throughout the season and looks to finish it off strong!
---
October 27, 2023

Varsity Volleyball
Isla Kaplan '27
Isla has worked hard over the course of the season to improve her setting skills, and she has had more opportunities recently to show that development in games as the season has progressed. Coach Collins and Coach Branham have been impressed with Isla's ability to be put into the game at a moment's notice and by the fact that her poise and confidence are impressive for a first-year student-athlete. Her court awareness has also made her a formidable front-row hitter and has kept the opponents guessing. We are excited about what she can bring to the court.
Varsity Field Hockey
Violet Dittman '27
Violet, aka "V", has continued to improve weekly throughout the season and has earned her way into a starting position on the field. Over the past week, she tallied four goals in 3 games, one of which was a game-winning goal with no time left on the clock. She is a utility player who has played in nearly every position on the field. She will play in any position asked of her without hesitation. Her quest for excellence is never-ending. During practice, she is constantly striving to improve her skills. Whether it's perfecting her dribbling, refining her passing, or improving defensive tactics, she's always up for the challenge. In addition to her individual achievements, she is the ultimate team player who always supports her teammates. Violet's unwavering commitment to her team and passion for the game make her an example of what can be achieved through hard work and dedication.
---
Honorable Mentions
Thirds Boys' Soccer
Khalid Alangary '24
In his senior game, Khalid showed his true passion and skills on the pitch. Leading the defense in a 3-1 win against Groton, Khalid helped to shut down nearly every advance from the opposing side. He expertly moved the ball back to our offense. His ball-handling skills were impressive. It was a great way to close out the home games for the Thirds team this season.
---
October 20, 2023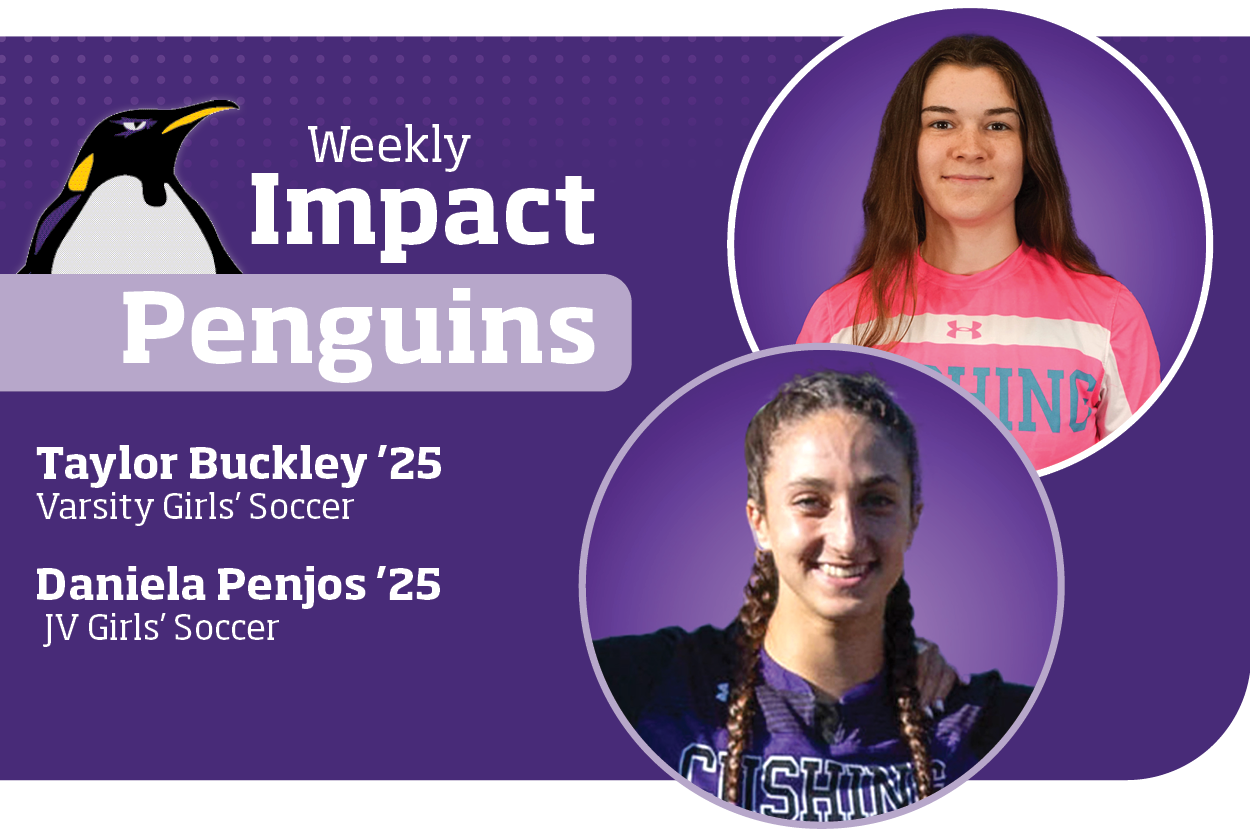 Varsity Girls' Soccer
Taylor Buckley '25
Taylor has exhibited exceptional skills and contributions, particularly in her role as a goalkeeper. Taylor's performance in goal over the past week has been nothing short of remarkable. She has shown incredible agility and reflexes, stopping close to 50 shots, including an impressive 20 breakaways. Her ability to make crucial saves under pressure has been instrumental in keeping the team in the game. Not only does Taylor excel as a goalkeeper, but she also serves as a source of inspiration for her teammates. Her leadership qualities shine through as she motivates and supports her fellow players, fostering a positive and unified team environment.
JV Girls' Soccer
Daniela Penjos '25
Daniela is a true embodiment of dedication and skill on the team. Her unwavering commitment is exemplified in her exceptional performance on the field, where she consistently gives her all for the entire 70 minutes of each game. As a leader on attack, Dani stands out with her remarkable footwork and a relentless drive to succeed. One of her standout moments came during the game against Williston North Hampton, where she displayed remarkable prowess on the offensive front. Not only did she maintain firm possession of the ball, but her tenacity in ensuring its retention was nothing short of inspiring. Dani also led the offense in our game against Eagle Hill, where she took charge by scoring an impressive four goals. This not only highlights her scoring ability but also her ability to rise to the occasion when her team needed it the most. Her journey from the beginning of the season to her current stature as a game-changer is a testament to her remarkable growth and the promise of even greater achievements in the future.
---
October 6, 2023

Varsity Volleyball
Kenzley Goode '25
Kenzley's performance helped the team secure three victories last week. She played consistently and kept our team in the game. She had three blocks and kills but also played defensively and offensively with poise and confidence. The timing of her blocks and kills helped to keep or shift the momentum to our side. At the net, Kenzley contested every hit and free ball, and her presence led to several points on errors by our opponents.
JV Boys' Soccer
Sory Kone '25
Sory has been the facilitator for our offense and a reliable scoring threat in every game so far this season. After failing to find the back of the net in the season opener, Sory has now scored 7 goals through the last three games, including the game-winner against Williston as time expired and a 4-goal game against New Hampton to secure the 6-2 victory. His play so far this season has helped lead the Penguins to a hot 3-1 start.
---
September 29, 2023

Varsity Boys' XC
Sam Speigel '24
Sam Spiegel was Cushiing's first runner across the line in each of his races so far this season. Competing at the Canterbury School, Sam finished 3rd of 77 runners. Racing on a much more challenging course than the previous weekend at Deerfield, he ran 18:23 for 5K and beat runners from Millbrook, Pomfret, KO, the Masters School, Wilbraham, Canterbury, Hamden Hall, Frederick Gunn, and Green Farms Academy. Sam serves as one of the team's tri-captains.
Varsity Field Hockey
Mackenzie Babine '26
Mackenzie, aka "Bambie," is a sophomore forward and has been a force to be reckoned with this season. Whether we are conditioning, learning new skills, or in a game, Mackenzie has given 100% effort and focus from day one. She also has been instrumental in helping to secure several of our wins this season. In our home opener against Austin Prep, Mackenzie earned a hat trick. She has tallied six goals and one assist in only three games.
Mackenzie is a versatile player with relentless grit, determination and incredible speed and skill. We can also always count on her to bring the fun to the field with her positive yet goofy attitude. She is a player who is loved by her teammates and sets an example they are proud to follow.
---
Honorable Mentions
Varsity Girls' XC
Candace Maple '26
Candace Maple kicked off the XC season with a convincing win at Deerfield's Brush Invitational; she was 1st of 24 runners from Deerfield, NMH, and Worcester and posted a winning time of 19 minutes and 42 seconds, more than a minute and 13 seconds ahead of the 2nd place runner. The following weekend, at the Canterbury Invite, she finished 2nd of 66 runners running almost as fast as the previous weekend (19:54) albeit on a much more challenging course. Candace had a productive summer of training, is working hard in practice, and will look to continue her strong start as she faces tough competition at this upcoming weekend's NMH Invitational.
Varsity Boys Soccer
William Devin '24
Will is a two-year captain and has been instrumental in the early season success of the boys' varsity soccer team (2-1-1). His leadership, communication, and tenacity in the midfield last week resulted in a two-win week against Williston and Wilbraham & Monson. Against Williston, Will was instrumental in organizing the team defensively in one of the best defensive performances in recent years, turning an 8-0 loss from a year ago into a 3-1 win this season. Against Wilbraham, Will again led by example netting the only goal of the game, securing the 1-0 victory, and holding the lines in the second half to earn a clean sheet through the full 90 minutes. Will also earned Man of the Match honors against Williston.
JV Girls' Soccer
Tina Lyu '24
Our senior goalkeeper's dedication and unwavering effort exemplifies the spirit of the game, showcasing that success is not just about talent but also about hard work, leadership, and unwavering belief. In a thrilling and tight game against Lawrence Academy. Tina emerged as the embodiment of hope and resilience. With an unwavering commitment to the team, she stopped a barrage of shots with incredible skill and determination. Time and time again, Tina came out of the box when needed, showing fearlessness and precision in challenging situations, keeping the team's hope alive, and inspiring the team to dig deeper and fight harder. Tina is not just a remarkable last line of defense but also a beacon of motivation and inspiration to our team.