At Cushing Academy, your coaches are also your teachers, advisors, and dorm parents. Your teammates feel like family. The lessons our athletes learn through robust competition—about healthy habits, strength of mind, and character—extend into every arena of life.
Student athletes choose Cushing.
Our coaches explain why…
Wherever you are as a student athlete, coming to Cushing Academy will bring your game to the next level. High-performance athletes appreciate the expertise of our coaches and relish playing alongside teammates who challenge and cheer for them. Cushing students who are new to competitive athletics have just as much fun exploring new sports.
---
NEPSCAC Championships in 17 years
of Senior Varsity Athletes Play in College
Cushing Athletes Drafted or Gone Pro
---
Our Athletic Program
Featuring 36 teams in 13 different sports, Cushing Athletics has the perfect team to match your level of play.
---
Varsity Team Sports Livestreamed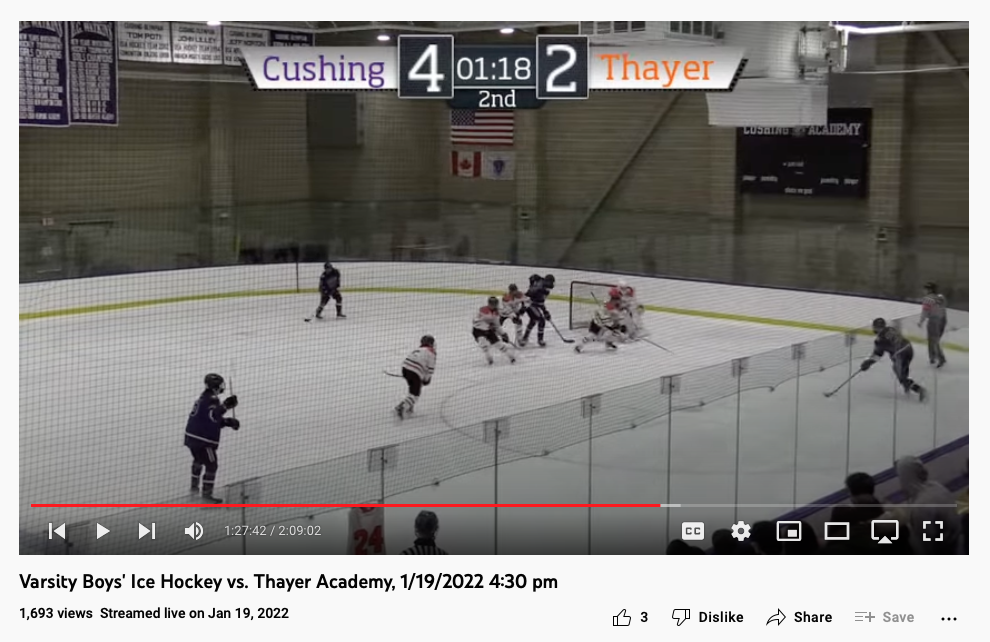 Whether Cushing fans can make it to campus or not, they can watch livestreams of all home team games. Our state-of-the-art cameras automatically pan and zoom to follow the action. Coaches and athletes review footage from games and practices to gain invaluable insights and improve technique.

Cushing Athletics Livestream Link


---

Hear the crowd roar...for YOU!
At Cushing, you're a part of something bigger than yourself. That's why Cushing Penguins love to turn out and support one another. There's no better feeling than giving your all and knowing that your teammates, classmates, and dormmates have your back.

---

---
Preparing to play in college (and beyond)
At Cushing, you'll find camaraderie with other dedicated athletes who aspire to compete beyond high school. You'll also find coaches who have experience at the college level and know what it takes to be successful in that arena. Our varsity teams even review film from games and practices (just like college athletes) to help you perform at your peak and maximize future opportunities.

A close collaboration: Coaches and College Counselors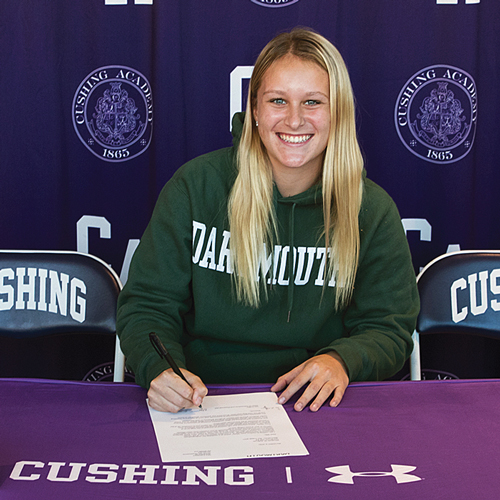 At Cushing, everyone is rooting for you to achieve your dreams. College counselors meet early with student athletes and actively coordinate with you and your coach to identify schools that fit your academic and athletic goals. Our coaches stay in contact with athletes year-round to advise on next steps to work toward these ambitions.

---

New to competitive athletics?
Welcome! Cushing Academy offers teams for every level of athlete to enjoy and to gain the life lessons that can be acquired through competitive sports.
"I'd never played volleyball before coming to Cushing. Now I'm proud to be part of the team. My teammates are like family, and I can always go to them when I need help."
– Chelsea Mukete '23, JV Volleyball
---
Outstanding Athletic Facilities? Check.
Everything you need is here on campus!

Watkins Field House
This 30,000-square-foot facility built in 2016 features three courts for basketball and volleyball, an aerobic fitness studio, and team locker rooms. Other special features include:
Athletic Training Room – Cushing has two full-time trainers who work with state-of-the-art equipment to help student athletes prevent and rehab injuries so they can compete as hard as they can as often as they can.
Strength and Conditioning Room – In addition to conditioning equipment, this room is staffed by specialized trainers to help students improve their overall fitness.
Aerobic Fitness Center —Cardio machines, weights, and a yoga studio are available to students year-round.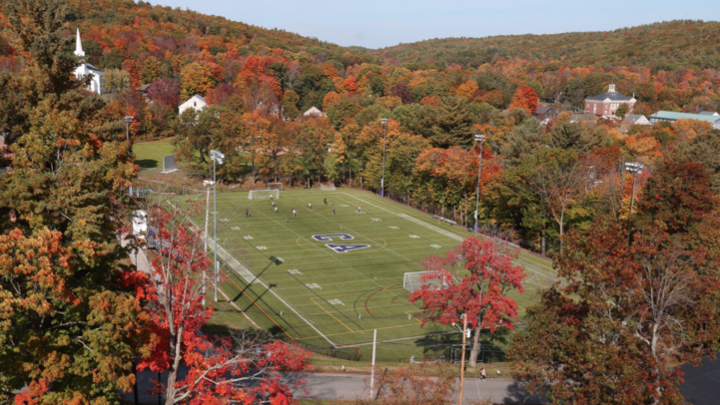 Quimby Field
Quimby Field is home to fall and spring games and practices for soccer, field hockey, and lacrosse, as well as "turf nights," impromptu soccer and frisbee games, and a variety of weekend activities. Quimby Field features extensive lighting and was recently renewed with high-tech synthetic turf and a new scoreboard.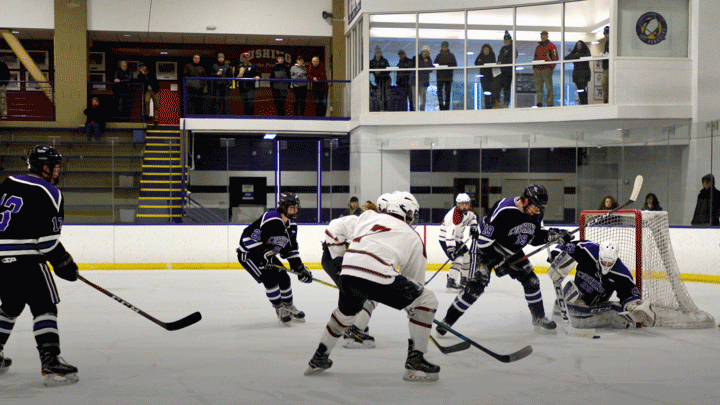 Theodore L. Iorio Arena
The Iorio Arena is a multi-million dollar facility for hockey, figure skating, and recreational skating, with cardio fitness studios, team locker rooms, reception areas, and offices. The arena features a state-of-the-art Crystaplex dasher board system; seamless acrylic shielding system; new protective netting; and energy-efficient LED lighting.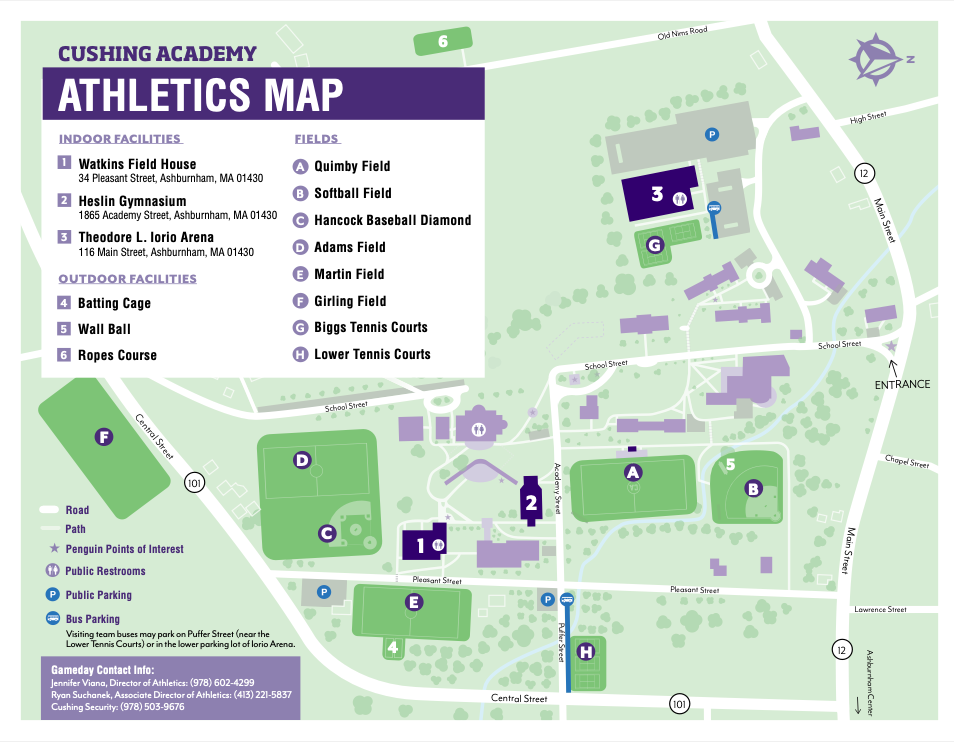 A Campus of Centralized Athletics
All of our athletic facilities are walkable, which encourages pick-up games, spontaneous practice, and a lot of fan participation. It's hard to pass by Quimby Field without stopping to take in an afternoon game. In addition, Cushing's athletic campus includes:
Six Natural Grass Fields — including competition-ready baseball and softball diamonds
Six Tennis Courts — including three Pickleball courts
Heslin Gymnasium — featuring a recently refurbished basketball/volleyball court
Batting Cages
Wall Ball
Ropes Course
Click here to download our Gameday Athletics Map, including street addresses and bus parking for visiting teams.
---
Connect with a Cushing Coach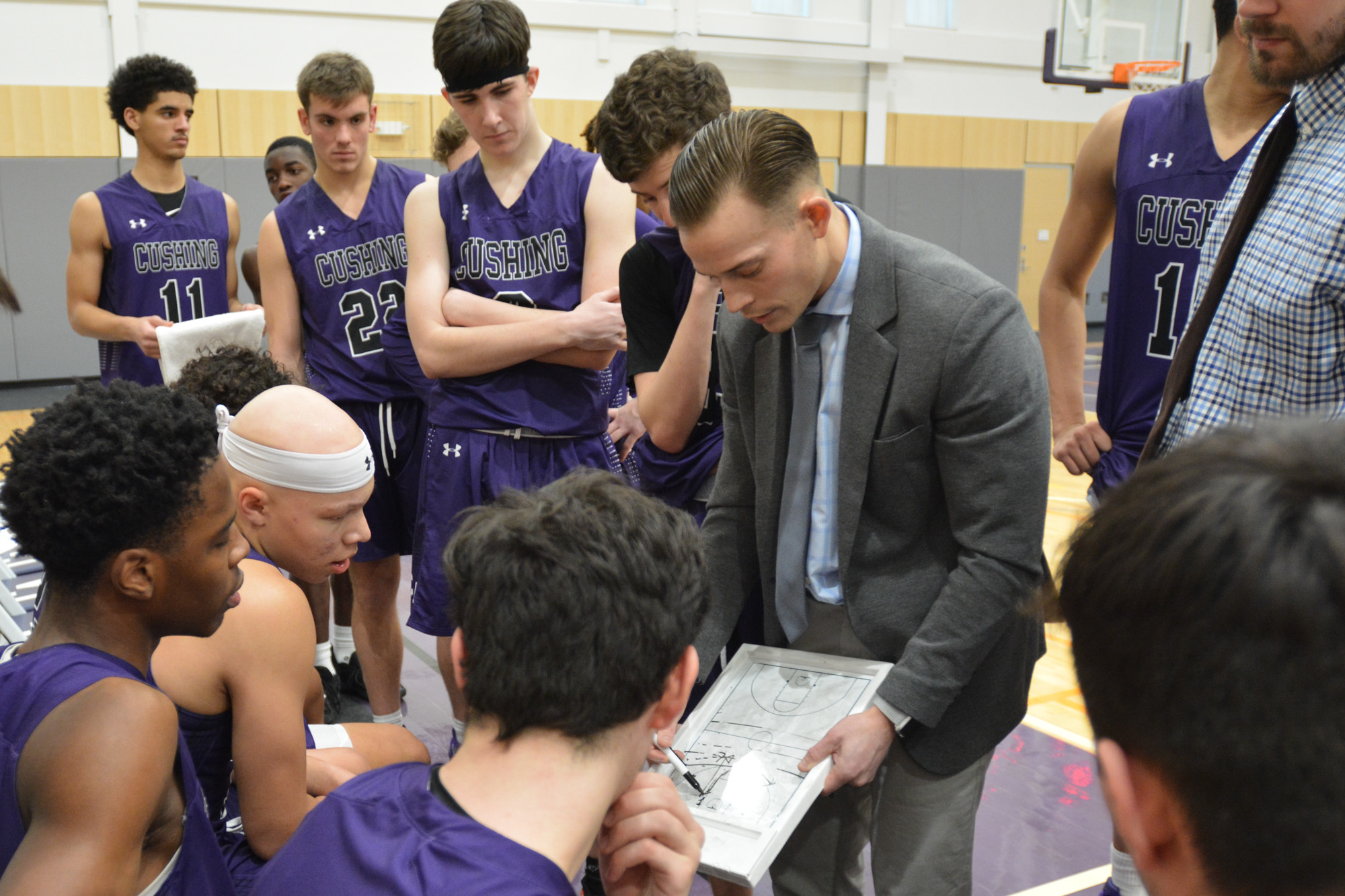 Ready to learn more about athletics at Cushing? We'd love to put you in touch with our coaches so you can learn first-hand how Cushing Academy can support your athletic goals. Submit an inquiry, and we'll help make the connection.