We are pleased to announce the plans for our 148th Commencement and upcoming celebrations for the Class of 2023!
148th Commencement
Saturday, May 27, 2023
Cushing Academy enjoyed celebrating the graduating Class of 2023. Below are links to videos and photos of the Awards Ceremony and Commencement Ceremony.
---
Commencement Speaker: Maya Rogers '96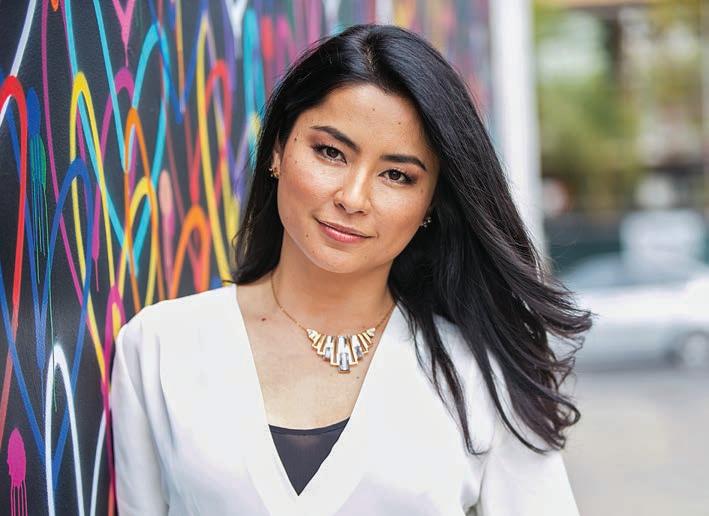 Maya Rogers '96, President and CEO of Tetris, is Cushing's 2023 Commencement speaker.
Maya Rogers is the CEO of Tetris, the iconic video game franchise. Under Maya's leadership, Tetris has transformed into a multi-faceted brand that continues to thrive. Today, Tetris games are available on all major gaming platforms and beyond in fashion, toys, lifestyle goods, and a major motion picture on Apple+. Tetris remains one of the world's most recognized and beloved games, with 520 million copies sold and over a billion games played every month.
In 2012, Maya co-founded Blue Startups, a venture accelerator that invests in early-stage scalable technology companies across SaaS, Travel & Tourism, Sustainability, and Gaming verticals. With an extensive global network, Blue Startups has invested in over one hundred companies, being a catalyst for innovation and entrepreneurship in Hawaiʻi and beyond.
Maya is a passionate advocate for community service, serving on the boards of the American Red Cross Hawaii Chapter, Kapi'olani Medical Center for Women & Children, Smithsonian Asian Pacific American Center, and the Women's Fund of Hawaii. With a BS in Business Administration from Pepperdine University and an Executive MBA from Pepperdine Graziadio School of Business and Management, Maya brings a wealth of knowledge and experience to everything she touches.
Maya grew up in Japan and Hawaii with a Dutch-Indonesian father and a Japanese mother. She currently resides in Honolulu with her husband, Roger, and her two children, Sia and Ren.
Maya was recently featured in our Cushing Today magazine.
---
Graduation Weekend Schedule


Friday, May 26, 2023
3:30 pm - Awards Ceremony and Cum Laude Recognition (Tent on Drew Common)
Most department and academic awards—excluding valedictorian, salutatorian, and a few community and academic awards—will be presented at this ceremony. All parents and guests are welcome to attend. If your son or daughter will be receiving an award, you will be notified in advance by the Academic Office. This event will be livestreamed.

Immediately following the Awards Ceremony, students will participate in the annual All-School Handshake on Quimby Field.
6:00-7:30 pm - Graduation Dinner for Class of 2023 and Parents (Fisher-Watkins Dining Commons)
Seating is limited; an RSVP invitation was sent to graduate families via email.
Saturday, May 27, 2023
8:00-9:30 am - Breakfast (Fisher-Watkins Dining Commons)
All guests are welcome.
10:00 am - Graduation Exercises (Tent on Drew Common)
While there is open seating in the tent, there is a special reserved front section for parents. Each graduate will receive two reserved seats in this section. The location of your family's two seats is determined by lottery, and you will receive the location upon arrival at the tent. All other guests in your party are welcome to find seats of their choosing in the non-reserved areas of the tent.
11:30 am-1:30 pm - Luncheon
All guests are welcome to enjoy lunch following the ceremony.
Departure from Campus
Seniors and their families depart campus following the luncheon, no later than 3:00 pm. Underclassmen remain on campus for final exams.
---
Additional Commencement Notes
Reserved and General Seating
Each graduate has two reserved seats for Commencement, which require checking in at the table by the entrance to the tent (opposite Carlisle Hall).
All other family members and guests can proceed to the general seating area and select any available, unmarked seat. Please find your open seats promptly and avoid congregating around the check-in table.
Please get in touch with Colleen Fay at [email protected] or (978) 827-7300 for questions regarding your seating.
Parking
On graduation day, all road access to the interior of our campus will be blocked. Parking will be directed to the baseball field (Adams Field), and golf carts and air-conditioned buses will be available to shuttle visitors to and from the event tent.
If members of your party have mobility issues, please get in touch with Colleen Fay at [email protected] or (978) 827-7300 and we will give your party access to limited parking in the admissions parking lot.
Breakfast + Luncheon
All guests to commencement are invited to join us for breakfast and a celebratory luncheon. Breakfast will be served in the Fisher-Watkins Dining Commons from 8:00 to 9:30 am. Lunch will be available immediately following graduation exercises, from 11:30 am - 1:30 pm.
Departure from Campus
Graduates and their families should say their final goodbyes and check out of their dorm rooms by 3:00 pm.
---
Invitations
Cushing provides each student with printed invitations to send to family and friends. Parents will receive an invitation directly from the Academy in the mail.
---
Student Attire for Graduation
Cushing will provide each student with academic regalia, consisting of a cap and gown, for the Commencement ceremony to accompany the student's special academic dress attire. Students are not permitted to substitute any academic regalia for what is provided by Cushing.
All students are expected to dress for Commencement and other end-of-year ceremonies in accordance with the Special Academic Dress policy of Cushing Academy's Community Handbook.

---
Lodging
If you require an overnight stay in the area before Commencement, we suggest that you secure a reservation soon. Please be aware that there is limited hotel availability in the area.
---
Additional Questions?
Please contact Colleen Fay, Administrative Assistant to the Head of School, at (978) 827-7102 or [email protected] if you have any questions or special accommodation needs.