We are pleased to announce the plans for our 148th Commencement and upcoming celebrations for the Class of 2023!
148th Commencement
Saturday, May 27, 2023
Cushing Academy is excited to celebrate the graduating Class of 2023. While Commencement plans are subject to change depending on fluctuations in state and local mandates and the COVID pandemic response, we currently anticipate a full schedule of events and are excited to welcome our extended Cushing families and their guests to campus.

---
Graduation Weekend Schedule


Friday, May 26, 2023
3:30 pm - Awards Ceremony and Cum Laude Recognition (Tent on Drew Common)
Most department and academic awards—excluding valedictorian, salutatorian, and a few community and academic awards—will be presented at this ceremony. All parents and guests are welcome to attend. If your son or daughter will be receiving an award, you will be notified in advance by the Academic Office.
6:00-7:30 pm - Graduation Dinner for Class of 2023 and Parents (Fisher-Watkins Dining Commons)
Seating is somewhat limited; an invitation will be sent via email.
Saturday, May 27, 2023
8:00-9:30 am - Breakfast (Fisher-Watkins Dining Commons)
All guests are welcome.
10:00 am - Graduation Exercises (Tent on Drew Common)
Unless Covid protocols in place at that time dictate otherwise, we anticipate that there will be ample seating for all guests, with no attendance limits per family, as is our traditional practice.

While there is open seating in the tent, there is a special reserved front section for parents, for which each student will receive two reserved seats. The location of your family's two seats in that section is determined by a lottery, and you will receive the location that morning upon arrival at the tent. All other guests in your party are welcome to find seats of your choosing in the tent.
11:30 am-1:00 pm - Luncheon
All guests are welcome to enjoy lunch following the ceremony.
Departure from Campus
Seniors and their families depart campus following the luncheon, no later than 3:00 pm. Underclassmen remain on campus for final exams.
Please Note: This is a placeholder schedule. Events and timing are subject to change. The program for Commencement will be finalized before invitations are sent out.
---
Invitations
Cushing will provide each student with printed invitations to send to family and friends. Parents will receive an invitation directly from the Academy in the mail.
---
Student Attire for Graduation
Cushing will provide each student with academic regalia, consisting of a cap and gown, for the Commencement ceremony to accompany the student's special academic dress attire. Students are not permitted to substitute any academic regalia for what is provided by Cushing.
All students are expected to dress for Commencement and other end-of-year ceremonies in accordance with the Special Academic Dress policy of Cushing Academy's Community Handbook.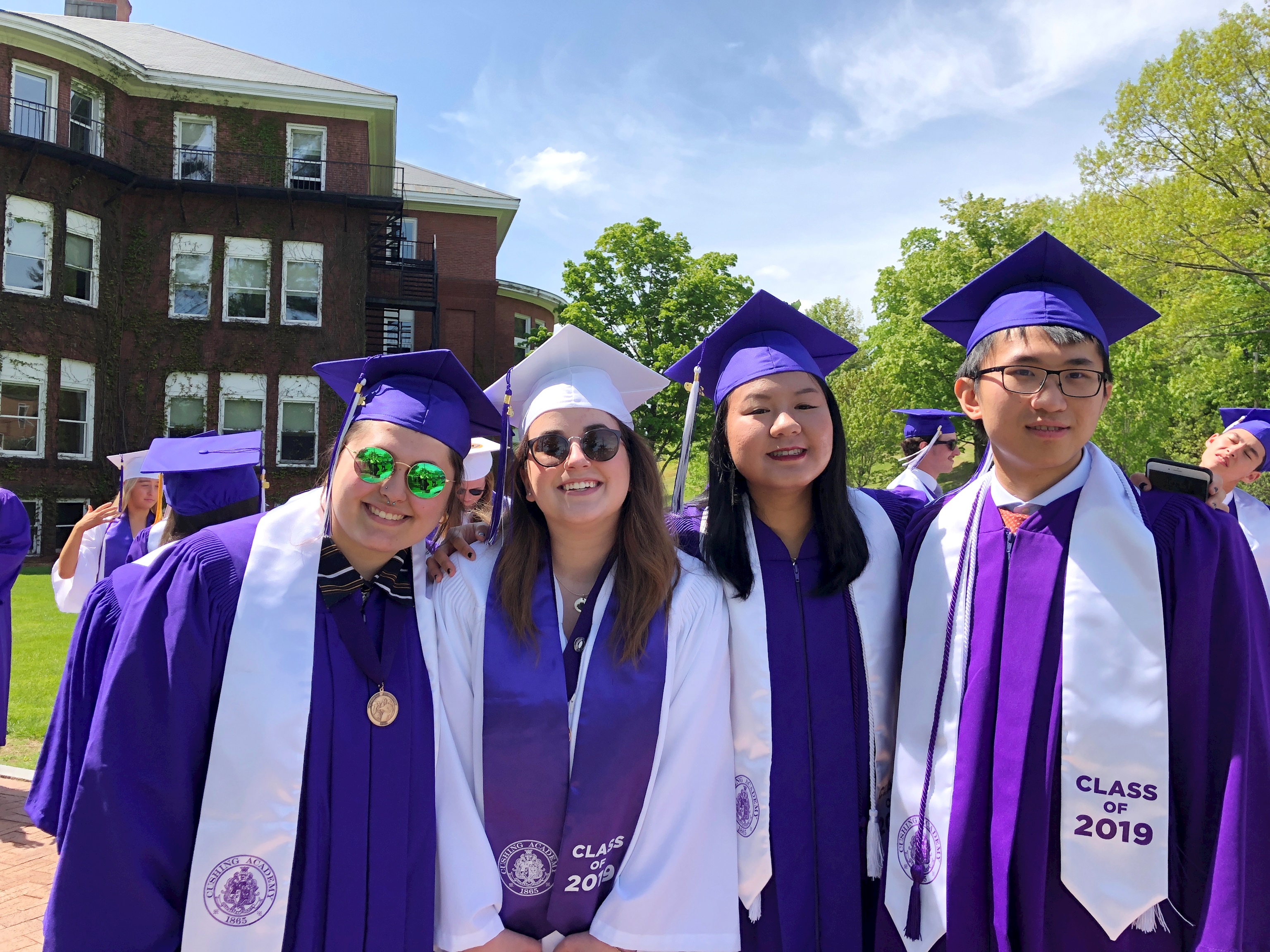 ---
Lodging
If you require an overnight stay in the area before Commencement, we suggest that you secure a reservation soon. Please be aware that there is limited hotel availability in the area.
---
Additional Questions?
We will keep you informed about all Covid protocols that will be in place at the time of Commencement.
If you have any questions, please contact Mrs. Colleen Fay, Administrative Assistant to the Head of School, at (978) 827-7102 or

[email protected]

, including assistance with mobility needs.