---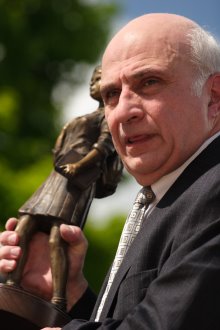 March 31st 2023
We are saddened to share news of the recent passing of emeritus trustee Dr. Theodore L. Iorio P'95 on March 23, 2023. Our community extends our deepest condolences to Ted's wife Dorothy, their children Ted '95, Adrienne, Matthew, Beth, and Laura, and their families.
Elected to the Board of Trustees in 1994, Dr. Iorio served with great dedication and distinction for more than two decades until 2015, when he was elected as a trustee emeritus in recognition of his extraordinary service.
Noting his tremendous impact on Cushing, Head of School Dr. Randy Bertin said, "For every member of our community, the Theodore Iorio Arena stands as a visible testament to Ted's legacy of visionary leadership as well as to the transformative generosity of Ted, Dot and his family. Equally true to his vision was his creative support for the visual arts at Cushing — support which led to the creation of the now-iconic School Girl Statue. He was deeply passionate about Cushing and about making Cushing the best school it could be, in every way. A brilliant scientist and far-sighted leader in the pharmaceutical industry as a founder of Copley Pharmaceuticals and Tedor Pharma, Ted's influence carries on as well in all that he made possible at Cushing, at his alma mater Massachusetts College of Pharmacy and Health Sciences, and at many institutions beyond."
Dr. Iorio's full obituary may be found here.
---
---
You may also be interested in...